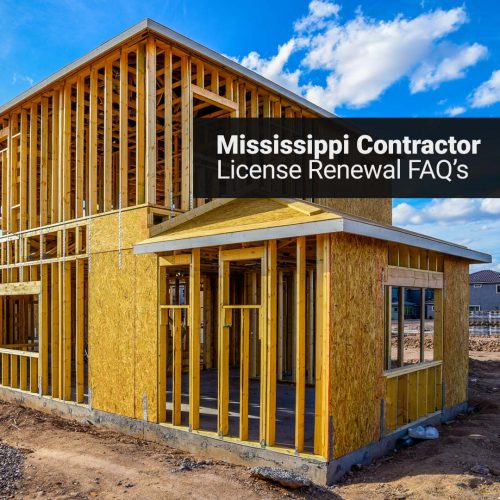 Mississippi Contractor License Renewal FAQ's
Who needs to be licensed to work as a contractor in Mississippi?
All contractors and subcontractors performing work on commercial jobs over $50,000.00 (including installation of equipment) require a commercial license issued by MSBOC. A commercial license is also required for any contract involving the construction, reconstruction, repair or maintenance of fire protection systems on public projects over $5,000.00 and private projects over $10,000.00.
A contractor performing new residential construction over $50,000 needs a Residential Building license. A contractor performing residential remodeling over $10,000 needs a Residential Remodeling license. A contractor performing residential roofing over $10,000 needs a Residential Roofing license. If you are performing residential electrical, plumbing, or HVAC work less than $10,000, a state license is not required, but you must contact the local building official or permit office regarding the local requirements.
How do I renew my Mississippi contractor license?
As a courtesy, MSBOC will mail a renewal application to current licensees approximately 60 days before the expiration date listed on the certificate of licensure. The application for renewal will be mailed to the address of record on file with MSBOC. It is the responsibility of the license holder to renew a license annually and to notify MSBOC of any change in address.
A commercial or residential license can be processed as a late renewal for up to 180 days after the expiration date printed on the certificate of licensure. A commercial or residential license that has been expired for more than 180 days cannot be renewed and will require a new application for licensure instead.
What fees are associated with renewing my contractor license?
Commercial License
Renewal: $400
Late Fee: $50
Additional Classification: $100
Residential License
Renewal: $100
Late Fee: $10
What continuing education is required for Mississippi contractors?
Residential contractors are required to complete two (2) hours of approved continuing education each year.  This new requirement went into effect July 1, 2015.
You must have your Mississippi contractor continuing education completed prior to your license renewal date, which is the last day of the twelfth month from your issuance date.
How do I contact the state if I have more questions?
Mississippi State Board of Contractors
2679 Crane Ridge Drive, Suite C
Jackson, MS 39216
(601) 354-6161
(800) 880-6161
info@msboc.us
---
DO YOU NEED MISSISSIPPI-APPROVED CE?