Modular Construction's Potential Comeback
Published on January 5, 2021 by Nate Bortz
In a previous blog, we talked about upcoming changes to the 2021 IBC regarding mass timber, and discussed the benefits of incorporating mass timber into more building designs. One of those benefits was the on-site time and cost savings that resulted from mass timber's prefabrication capabilities. Now, in this follow-up blog, we'll look at "modular construction" as a whole and how the pandemic is bringing it back to the mainstream.
Modular (or prefabricated, used here interchangeably) construction isn't new, with evidence that it dates back to the 1600s. In the US, modular construction reached its peak thanks to a post-WWII housing shortage. But it never really "took off" within the larger, more traditional building projects that preferred "build on site" methods.
Today, however, architecture design researcher Daniel Davis says "fueled by a favorable economic environment, new technological developments, and the COVID-19 pandemic, modular architecture is showing up in new and unexpected ways."
Modular Construction's Benefits & Challenges
Similarly to mass timber, studies have shown that modular construction saves time, can save money, creates less waste, and is better for the environment.
Case studies have shown that modular construction projects accelerate project timelines by 20 to 50 percent.
One UK construction publication has found that modular construction projects "are more energy-efficient, create less waste, and increase the use of sustainable materials. There is also a reduction in the carbon footprint of the build as fewer people are travelling to and from the site."
But there are reasons massive modular projects haven't taken over in the US. The cost of transportation alone can overcome any jobsite savings, and modular projects require more design and engineering decisions to be made much earlier in the planning process. One east coast consulting service says "it requires architects, engineers and contractors to be familiar with the intricacies of the modular fabrication and erection stages."
Despite these challenges, recent technological improvements (and lots of funding from investors) are increasing the possibility of larger scale modular projects.
Modular Construction's Potential
Investments Left & Right
In 2017 McKinsey released a 155-page report on the global construction industry that outlined a $1.6 trillion opportunity to move the construction industry toward "a manufacturing-inspired mass-production system." Since then, that trillion "with a T" dollar projection created a long line of investors itching to get in on the potential profits. Here's a rundown of just a few of them from Davis's article:
Recently Juno, a startup founded by Apple and Tesla veterans, announced it had raised $11 million to "rethink how housing is developed." Shortly afterwards, Factory OS reported that it had raised $55 million from Autodesk, Facebook, Google, and others to build houses "more like cars." 
SHoP Architects recently revealed that it was launching Assembly OSM, a separate company aimed at reimagining building manufacturing (perhaps picking up from its earlier modular foray with the B2 apartments in Brooklyn, N.Y.). Katerra has raised more than a billion dollars to fund its factories, which can make everything from precast frames to countertops.
Technological Breakthroughs
Along with the recent flood of investment capital, the technology of modular construction has advanced significantly in the past decade.
"Just doing construction in a new way isn't enough to innovate," explains Danil Nagy, chief technology officer at iBuilt, an early prefabrication pioneer founded originally as Deluxe Modular in 1965. "You have to take on more of the process to disrupt the industry; you need both a new business model and the technology to make that business work."
Luckily, that technology is largely here. Modular systems traditionally worked like LegosⓇ, with rigid units that stack to form a building. Now, recent developments in computational design allow designers to create modules that offer a degree of flexibility. Rather than being uniform bricks, the modules can shrink, grow, or truncate to better fit a project.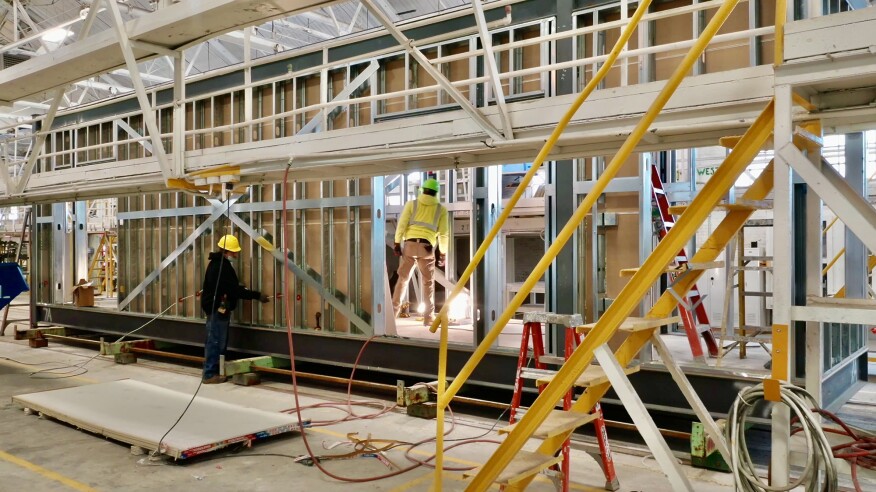 This is especially important for urban sites where space is at a premium and a rectangular box won't necessarily provide the most efficient layout. This technique is familiar to many architects, with computational designers at practices like Zaha Hadid Architects using similar algorithms to adjust façade panels to fit an irregularly shaped building.
COVID-19 Changes Things…Again
Just like mostly everything else in 2020, COVID-19 has changed the way we live and work. With the increase in telecommuting, many people are moving or rethinking their living arrangements. Like the wartime effort to quickly build thousands of houses, modular construction may provide a way to quickly satisfy the demand for new housing.
Beth Cameron, the co-founder and director of Makers of Architecture, a New Zealand firm that specializes in prefabricated housing, says that her firm has experienced a "huge wave" of business as people began seeing "their home environments through a new lens."
With money, technology, and market conditions all in alignment, modular architecture may seem like an existential threat for firms whose projects could be replicated in a factory, Davis warns. But on the other hand, with so many companies vying to make their flavor of modular construction succeed, it's not clear which—if any—will be successful.
Modular Construction Case Studies
Despite large scale modular construction still being in its infancy, architects "have plenty of opportunities before them," Davis says. Here's just one example of an upcoming modular project (that also happens to rely largely on mass timber).
Generate
After spending his formative years in China "building the unbuildable," John Klein, AIA, took a position at MIT where he focused on the crises of housing affordability and climate change. Once he realized many of the design techniques he used in China could be applied to develop more replicable and sustainable buildings in the US, he founded Generate, an architecture studio that specializes in modular construction.
In September, Generate partnered with Placetailor, a Boston-based design, development, and construction cooperative that focuses exclusively on zero-carbon housing, to design and deliver the Model-C housing project.
The five-story, 19,000-square-foot building in Boston fills an irregular wedge of land so particularly that its factory origins seem improbable. The walls run at odd angles, tracing the site's perimeter instead of a factory-made grid. Inside, each apartment contains a unique combination of bedrooms and living room layouts sized to fit the skewed exterior.
The flexible module is constructed from cross-laminated timber. Using software that Klein developed with his team, he can quickly lay out modules on a site and export drawing sets to a factory, which follow the principles of Design for Manufacturing and Assembly (DfMA).
"We at Generate and Placetailor believe the Model-C apartments will be one of the most sustainable buildings in the U.S.," Klein says. The building is expected to operate at a net-zero carbon level when it is completed late next year. With nine other projects in the early to late design phases, Generate and its novel construction systems seem to be finding early success.
Picture. Caption: A section through Generate's Tall House project shows how the building systems come together.
Modular Construction's Bright Future
There are plenty more modular construction projects emerging, like from House by Urban Splash in the UK. Their mission is to build "architect-designed factory-created, modular houses using low carbon and sustainable materials." As investments and demand continue to grow, so will the opportunity for architects.
What do you think of shifting toward more modular designs? Do you think the benefits outweigh the challenges? Let us know on social media!