Business and Project Management for General Contractors – Virginia Edition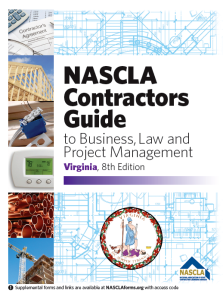 by the National Association of State Contractors Licensing Agencies (NASCLA).
This book is recommended by the state of Virginia as a helpful text in studying for the Virginia (Part 1), General (Part 2) or Advanced (Part 3) portions of the Class A or Class B Contractor exams.
Your are allowed to take this book with you into the exam.
Find information faster with our new self adhesive reference book tabs!
Preprinted and PSI Approved!