Design and Control of Concrete Mixtures, 2011 Reference Book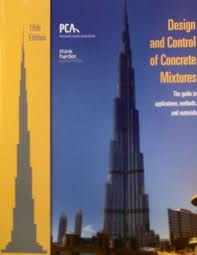 Design and Control of Concrete Mixtures– This book presents the properties of concrete as needed in concrete construction, including strength and durability.
All concrete ingredients (cementing materials, water, aggregates, chemical admixtures, and fibers) are reviewed for their optimal use in designing and proportioning concrete mixtures.
The use of concrete from design to batching, mixing, transporting, placing, consolidating, finishing, and curing is addressed. Besides presenting a 30% increase in new information over the prior edition within the previous chapters, this edition has added four new chapters on concrete sustainability, reinforcement, properties of concrete, and durability.
This comprehensive manual benefits personnel from ready-mixed concrete producers, concrete contractors, and material suppliers and is a reference publication for many national and state certification programs.
Design and Control of Concrete Mixtures, 2011 Reference Book

Concrete fundamentals, cold weather concreting, curing, admixtures, aggregates, mixing, and more