NASCLA Business And Project Management For Contractors – Licensing Board For General Contractors – Alabama Edition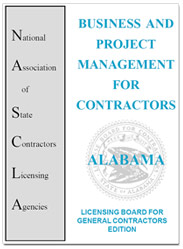 by the National Association of State Contractors Licensing Agencies (NASCLA).
This book was  designed to provide an overview of business management subjects for general contractor examination candidates applying for a license from the Alabama Licensing Board for General Contractors'. It is also written to act as a reference guide for licensed general contractors.
Add tabs for this book
Find information faster with our new self adhesive book tabs! Pre-printed and PSI Approved!