Contractors Guide to Business, Law and Project Management Book – North Carolina 6th Edition by NASCLA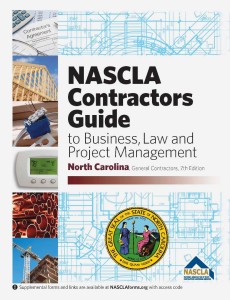 Spiral Bound – 10.5 x 8 x 0.5 inches
This book is organized into 3 sections that together provide a wealth of information.
Part 1 focuses on business planning and start up and covers everything from formulating a business plan to insurance requirements to basic management and marketing skills.
Part 2 is centered on fundamentals that you will need to operate a successful construction business, and provides valuable information for successful cover estimating, contract management, scheduling, project management, safety and environmental responsibilities and building good relationships with employees, subcontractors and customers.
Part 3 gives you valuable information for running the administrative and financial functions of your business.